CUPRA´s colaboration with De Antonio Yachts.
CUPRA x De Antonio Yachts
Ever the unconventional challenger brand, at CUPRA we continue to move forward with our goal to create a universe of experience around the thrill, excitement and power of driving. After announcing this partnership with Barcelona-based shipyard De Antonio Yachts at our digital CUPRA Anniversary event last February, we presented our first collaboration to the world.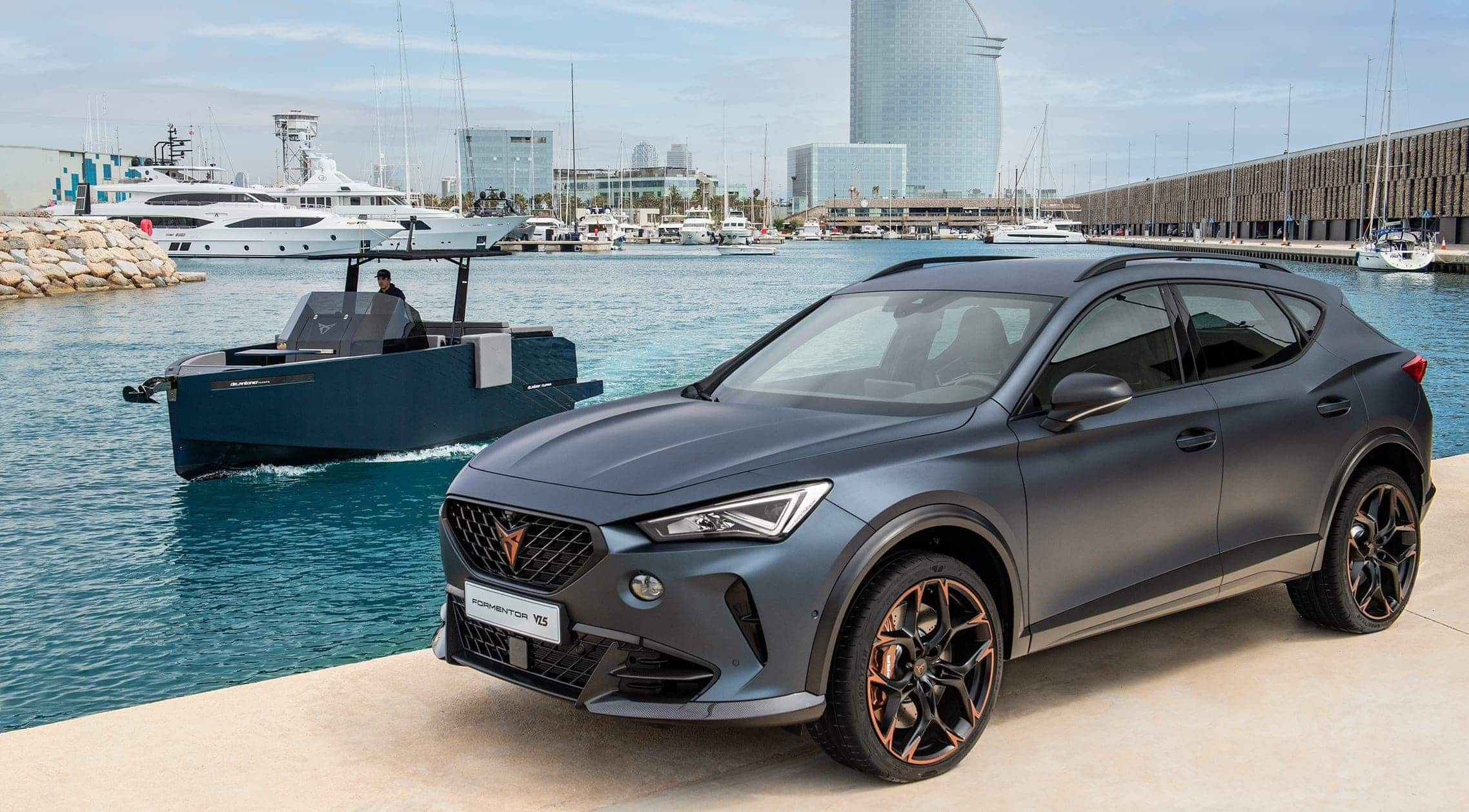 The D28 Formentor is a high-performance yacht that takes inspiration from our first uniquely developed model, the CUPRA Formentor. We were excited to reveal the D28 Formentor in all its glory at a unique exhibition in Barcelona's Marina Vela Port, where it was shown alongside a Special Edition of the car: with a 390PS output, the CUPRA Formentor VZ5 will have a limited run of 7,000 units.
CUPRA President Wayne Griffiths said: "Our vision of inspiring the world from Barcelona knows no frontiers, and now we're taking our contemporary design to the sea. With this collaboration, we want to demonstrate CUPRA's ambition to combine high performance with the kind of unique style and design that generates lasting emotion. The D28 Formentor by De Antonio Yachts is just the beginning because we'll work together again on the creation of a hybrid-powered yacht that we aim to launch in 2022."
The perfect combination of performance and design
Scheduled to go on sale at the end of 2021, the D28 Formentor is 7.99 metres in length and can be extended by adding a half-metre stern platform. Its exterior has a distinctive Petrol Blue hull with several inflexions in black and carbon fibre, plus other notable elements that add further elegance and sportiness to its wheelhouse.
Its V-shaped hull design enables the 400PS showboat to reach up to 40 knots, as well as smooth sailing at cruising speed. With a generous beam and superb weight distribution, it provides a spacious deck with added stability when anchoring. The D28 Formentor has stand-out exterior features, simple lines and dynamic design, with added elegance and sportiness expressed through a Petrol Blue and copper-tone trim finish. Also, thanks to a layout that follows the "walk-around" concept, passengers are able to move comfortably around its perimeter. The high degree of space utilisation offers an incomparable feeling, with a maximum capacity of up to ten people.
Marc de Antonio, the co-founder of De Antonio Yachts, pointed out that "De Antonio Yachts was born out of a passion for the sea and an interest in innovating and building sporty yachts with contemporary design. CUPRA shares this same spirit; we're both from Barcelona and believe in the city's potential as a world benchmark for cosmopolitan design."
De Antonio Yachts co-founder Stan Chmielewski says: "Both De Antonio Yachts and CUPRA are committed to a high level of technological development in our products, and in this collaboration, we'll work to apply the best innovation from the nautical world. We're very proud of this first showboat as the start of a promising collaboration."
The CUPRA lifestyle universe
At CUPRA, we collaborate with brands that speak our design language and share our way of crafting experiences. So far, in our commitment towards creating exclusive and limited product collections that represent the CUPRA lifestyle, we have also collaborated with lighting company Marset to produce Chispa by Marset for CUPRA, a portable, rechargeable, cordless designer lamp, which is now available.
We also launched an exclusive sneaker collection with international fashion brand Mikakus. The Mikakus x CUPRA capsule is also inspired by the design of the CUPRA Formentor. In addition, we have developed exclusive collections of bags, accessories and sunglasses with the TRAKATAN and L.G.R. fashion brands.